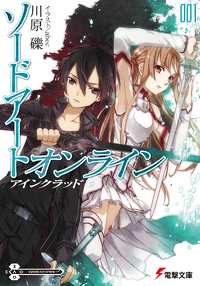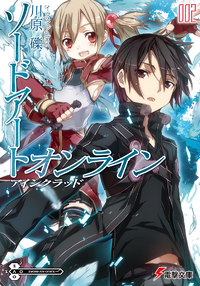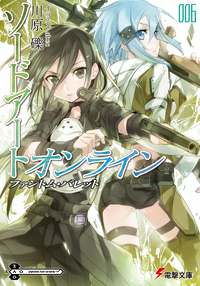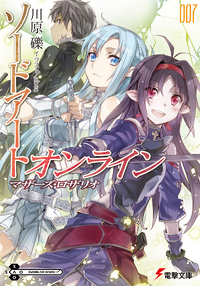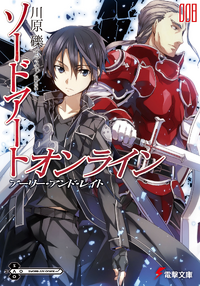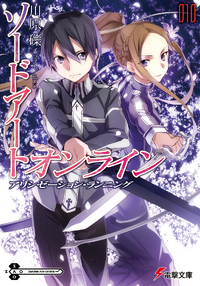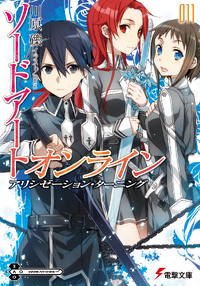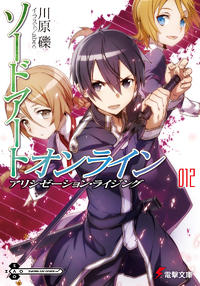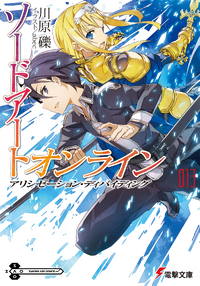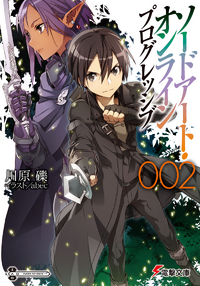 Title:
SWORD ART ONLINE (ソードアート・オンライン)
Genres:
Action, Adventure, Fantasy, Romance, Harem, Science Fiction
Author:
Reki Kawahara
Light novel illustrator:
Abec
LN release date:
10/4/2009 - 9/9/2014
(ongoing, 15 volumes + 2 of Progressive)
Published by:
ASCII Media Works
Magazine:
Dengeki Bunko
Main characters:
Kirito, The Black Swordsman / Kazuto Kirigaya (キリト / 桐ヶ谷 和人)
in TV series voiced by Yoshitsugu Matsuoka
Asuna, The Flash / Asuna Yuuki (アスナ / 結城 明日奈)
voiced by Haruka Tomatsu
Lyfa, the Sylph / Suguha Kirigaya (リーファ / 桐ヶ谷 直葉)
voiced by Ayana Taketatsu
Sinon / Shino Asada (シノン / 朝田詩乃)
voiced by Miyuki Sawashiro
Secondary characters:
Klein / Tsuboi Ryōtarō (クライン / 壷井 遼太郎)
voiced by Hiroaki Hirata
Heathcliff / Akihiko Kayaba (ヒースクリフ / 茅場 晶彦)
voiced by Kōichi Yamadera
Silica / Keiko Ayano (シリカ / 綾野 珪子)
voiced by Rina Hidaka
Lisbeth / Rika Shinozaki (リズベット / 篠崎 里香)
voiced by Ayahi Takagaki
Yui (ユイ)
voiced by Kanae Ito
Sachi (サチ)
voiced by Saori Hayami
Official website:
http://www.swordart-online.net/book/
Synopsis:
In the year 2022, the Virtual reality Massive Multiplayer Online Role-Playing
Game
(VRMMORPG)
Sword Art Online
(SAO) is released. With the Nerve Gear, a VR Helmet that stimulates the user's five senses via their brain, players can experience and control their in-
Game
characters with their minds. But an unexpected event occurs on November 6, 2022 when Akihiko Kayaba, the creator of SAO, prevents the players from logging out. Akihiko issues them a challenge; if they wish to be free and log out of the
Game
, they must reach the 100th floor of the
Game
's tower and defeat the final boss. However, should their avatars die in the
Game
, so will their bodies in the real world. As the
Game
's 10,000 players try to accept their new deadly predicament, Kirito, a skilled player who tested the beta version of the
Game
, is determined to reach the 100th floor and be free. Along with Asuna, his partner and love interest, and their friends, Kirito and his allies will face many obstacles and discovers the true purpose of SAO. As their adventure continues, they will also participate in other VRMMO games as well.