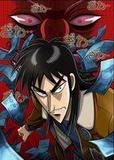 Title: Tobaku Mokushiroku Kaiji (賭博黙示録カイジ)
Studio: Madhouse
Genre: Drama
Airs: NTV, Tuesdays at 1am, starting October 2nd.
Website:
http://www.ntv.co.jp/kaiji
Summary: Not unlike his predecessor Akagi, Kaiji is an obsessive gambler. Throughout the series we'll be seeing more than mere mahjong or other traditional gambling games-- Kaiji will bet on anything, and new gambles and gambling games were developed by creator Nobuyuki Fukumoto for the manga the show is based on. The focus of the show, however, is the psychology behind gambling-- and gambling addiction.
Notable:
* Although the title literally means "Gambling Apocalypse Kaiji," the English name given on the official website is "Ultimate Survivor Kaiji."
* Kaiji is based on the award-winning manga by Nobuyuki Fukumoto, who also created the mahjong manga Akagi. The Kaiji anime will also feature the same staff as the Akagi anime adaptation.
source: japanator.com
ps.
the drawings were kinda weird, but i find it interesting. i was surprised when they revealed the enveloped they were given after they got the money. it was rock-paper-scissor game!