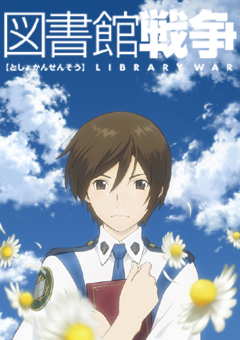 Title:
Toshokan Sensō (Library Wars)
Japanese Title:
図書館戦争
Genre:
Military, Action, Drama
Premiere:
April 2008
Animation Studio:
Production I.G.
Original creator:
Hiro Arikawa
Director:
Takayuki Hamana
Original Character Design:
Sukumo Adabana
Character Design:
Satoru Nakamura
Official Website:
http://www.toshokan-sensou.com/
http://www.production-ig.co.jp/contents/works_sp/1750_/
Cast:
Marina Inoue as Iku Kasahara
Akira Ishida as Mikihisa Komaki
Miyuki Sawashiro as Asako Shibasaki
Tatsuhisa Suzuki as Hikaru Tezuka
Tomoaki Maeno as Atsushi Dōjō
Haruo Satou as Kazuichi Inamine
Kanji Suzumori as Ryūsuke Genda
Toshokan Sensō (図書館戦争, Toshokan Sensō? lit. Library War) is a Japanese light novel series by Hiro Arikawa, with illustrations by Sukumo Adabana. A manga adaptation by Kiiro Yumi started serialization in the shōjo manga magazine LaLa on October 24, 2007 published by Hakusensha; another manga adaptation by Yayoi Furudori started serialization in the seinen manga magazine Dengeki Daioh on December 21, 2007 published by MediaWorks. An anime adaptation by Production I.G will start broadcast in Fuji TV's Noitamina programming block in April 2008.
(~from WIKI~)
Plot:
In the year 2019, 30 years have passed since the Media Purification Law, which cracks down on articles that incite public disorder or infringes human rights, was enacted. The agents of the Special Organization for Purification arm themselves and control various media. Meanwhile, libraries rise up against extralegal censorship.
(~from AnimeNfo~)
To be completely honest....I have got no clue about this anime....I'm not too sure that I will check it out when it comes out but I might depending on future reviews.
According to ANN its meant to be a
12 Episodes
anime.