~ Dark Pun Master ~
Staff member
Leader Council
Titles:
Shōwa and Genroku Era Lover's Suicide Through Rakugo
/ Yotarō's Wandering Arc (OVA)
Japanese:
昭和元禄落語心中
/ 与太郎放浪篇 (OAD)
Release dates:
8/1/2016
(TV series 13 episodes),
6/3/2015
(1st OVA) and
7/8/2015
(2nd OVA)
Genres:
Historical, Comedy, Drama, Josei
Original creator:
Haruko Kumota
Director:
Mamoru Hatakeyama
Written by:
Jun Kumagai
Music by:
Kana Shibue
Character designer:
Mieko Hosoi
Sound Director:
Kōji Tsujitani
Director of Photography:
Shigemitsu Hamao
Color setting by:
Hitomi Sano
Supervision by:
Shinpei Hayashiya
Studio:
DEEN
Network:
MBS, TBS, CBC, BS-TBS
Theme song:
"Usurahi Shinjū (薄ら氷心中)"
by Megumi Hayashibara
Main cast
:
Kyōji / Yotarō (与太郎)
voiced by Tomokazu Seki
Yūrakutei Yakumo "8th Generation" / Kikuhiko (有楽亭八雲/菊比古)
voiced by Akira Ishida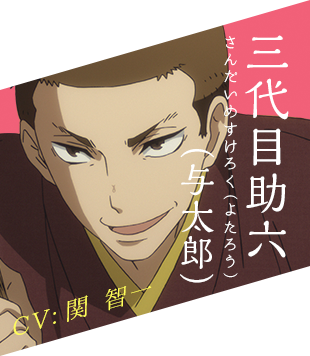 Konatsu (小夏)
voiced by Yu Kobayashi
Sukeroku (助六)
voiced by Kōichi Yamadera
Suppurting
cast:
Matsuda (松田)
voiced by Shigeru Ushiyama
Miyokichi (みよ吉)
voiced by Megumi Hayashibara
Yakumo "7th Generation" (七代目有楽亭八雲)
voiced by Hiroshi Yanaka
Bansai Tsuburaya (萬歳)
voiced by Chafurin
Mangetsu Tsuburaya (萬月)
voiced by Kōji Yusa
Master Nekosuke (猫助師匠)
voiced by Shinpei Hayashiya
Amaken (アマケン)
voiced by Kappei Yamaguchi
Ani-san (アニさん)
voiced by Shou Sudō
Yakuza Boss (ヤクザ兄貴)
voiced by Yasuyuki Kase
Site:


Synopsis:
The year was 1970s. When a certain man is released from prison, he knows exactly where he's heading first. After falling in love with a traditional comic storyteller's rendition of the story called "Shinigami," he is determined to become his apprentice. The performer, Yakumo, has never taken an apprentice before, but to everyone's surprise, he accepts the eager ex-prisoner, nicknaming him "Yotaro."
As Yotaro happily begins his new life, he meets others in Yakumo's life, including Yakumo's ward Konatsu. Konatsu was the daughter of a famous storyteller, and Yakumo took her in after her father's tragic death. Konatsu loved her father's storytelling, and would love to become a performer in her own right—but that path is not available for women.
QUOTE
(gdpetti @ Jan 04 2016, 09:51 PM)I wonder what
Shouwa Genroku Rakugo Shinjuu
is going to be like? At least it seems different, as the main character isn't in elementary, jr high or high school... that seems like progress!
That caption says 'mature' character... here in the States, that usually means someone near or in the usual retirement age... as in senior citizen, which the picture doesn't seem to be... he looks to be in his late 30s to 40s... is that 'mature' in Japan?
It sounds like a 'mature' storyline... which must mean anyone that has left high school, right?
Has this storyline been done before? It is 'comic storytelling' so it should be funny, though perhaps in a 'mature' manner? Is 'mature' manga/anime a completely different format in Japan? The caption seems the same though... still a 'dim-witted,' anti-hero, mature man... maybe that 'dim' fits the comic aspects?
QUOTE
(gdpetti @ Dec 05 2015, 06:18 PM)... sounds very Japanese specific, as it's hard to translate much of comedy when it's culturally specific... otherwise, it sounds interesting... but that discription of 'anti-hero' as 'dim-witted
at first
I didn't expect much, but studio Deen impressed me this time! 50 min