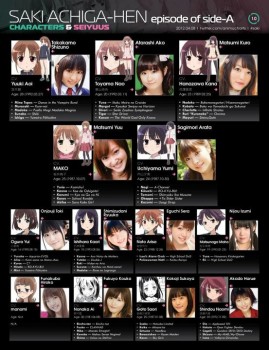 Title:
Saki Achiga-hen episode of side-A
Type:
TV
Episodes:
12
Airing:
2012-04-08
Producers:
Studio Gokumi
Cast :
See the image above
Opening Theme:
"Miracle Rush" by StylipS
Ending Theme:
"Square Panic Serenade" by Aoi Yūki, Nao Tōyama, Kana Hanazawa, MAKO, and Yumi Uchiyama
Synopsis :
The Achiga Girls' Academy in Nara once defeated regional mahjong powerhouse Bansei High School. It advanced into the national team semifinals but lost to the eventual champion, and the mahjong club was later disbanded.
Six years later, elementary school student Shizuno Takakamo befriends transfer student Nodoka Haramura. The two eventually enter Achiga Girls', but Nodoka transfers out of the school in the second year.
When Shizuno sees Nodoka on television the following year as the national middle school individual mahjong champion, she decides to revive Achiga's mahjong club.
(Source : ANN and MAL)
My thought :
I haven't watch this yet (the 1st episode is already released) nor the the first anime broadcasted a few years ago. But as it's a spin-off, I was told it is alright to watch this without having watched the initial anime. The first thing I'll pay attention to is obviously the cast ! Having
Kana Hanazawa
,
Ogura Yui
,
Kaori Ishihara
,
Goto Saori
and
Nonaka Ai
in the same anime is just purely awesome ! I may be biased but I have some high expectation for this anime !