~ Dark Pun Master ~
Staff member
Leader Council
Title:
Samurai X
Japanese:
るろうに剣心
Blu-ray & DVD release date:
26/12/2012
(live-action movie)
Theatrical release date:
25/8/2012
(JP) and
5/12/2012
(other countries)
Genres:
Action, Drama, Chanbara
Original creator:
Nobuhiro Watsuki
Director:
Keishi Ōtomo
Written by:
Kiyomi Fujii
and
Keishi Otomo
Music by:
Naoki Sato
Cinematography:
Takuro Ishizaka
Editing by:
Tsuyoshi Imai
Produced by:
Osamu Kubota, Shinzō Matsuhashi
and
William Ireton
Distributed by:
Warner Bros
Studio:
Studio Swan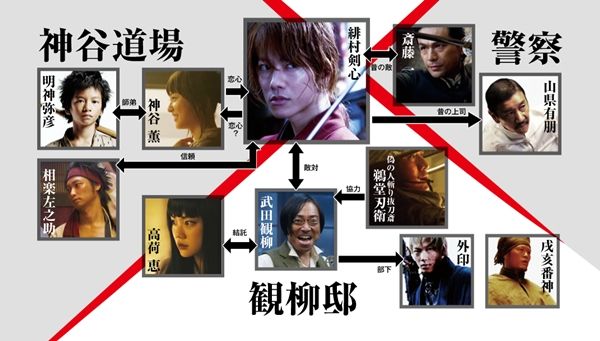 Main Cast:
Takeru Satō
as Kenshin Himura (Hitokiri Battōsai)
Emi Takei
as Kaoru Kamiya
Munetaka Aoki
as Sanosuke Sagara
Taketo Tanaka
as Yahiko Myojin
Yosuke Eguchi
as Hajime Saitō
Yu Aoi
as Megumi Takani
Koji Kikkawa
as Udō Jin-e
Teruyuki Kagawa
as Kanryu Takeda
Gou Ayano
as Gein
Genki Sudo
as Banjin Inui
Eiji Okuda
as Aritomo Yamagata
Movie trailer:
https://www.youtube.com/embed/90ubrsSxrKc?rel=0&autoplay=1
Official website:
http://wwws.warnerbros.co.jp/rurouni-kenshin/1/index.html
Synopsis:
Former legendary assassin Kenshin Himura (Takeru Sato) has now become a wandering samurai. Offerring aid & protecting those in need as atonement for his past deeds. During this time Kenshin Himura comes across and aides Kaoru Kamiya (Emi Takei). Her father opened the Kamiya Kasshin-ryu, a kendo school located in Tokyo and Kaoru is now an instructor there. Kaoru then invites Kenshin to stay at her dojo. Their relationship develops further, but Kenshin is still haunted by his violent past.