~ Dark Pun Master ~
Staff member
Leader Council
Title: Wind-Up Spirit Chronicles
Alderamin on the Sky
Japanese: ねじ巻き精霊戦記
天鏡のアルデラミン
Airing date:
8/7/2016
(TV series)
Genres:
Action, Adventure, Fantasy, Military
Original creators:
Bokuto Uno
(light novel) and
Taiki Kawakami
(manga)
Original character designers:
Sanbasō
(LN volumes 1-5) and
Ryūtetsu
(vol.6 onwards)
Director:
Tetsuo Ichimura
Written by:
Shōgo Yasukawa
Music by:
Keiji Inai
Character designer and chief animation director:
Kunio Katsuki
Sub-character designer:
Yuichi Hirano
Art director:
Takeshi Waki
Director of photography:
Akane Fushihara
3D director:
Yasutaka Tanaka
Sound director:
Yoshikazu Iwanami
Sound effects by:
Yasumasa Koyama
Color design by:
Harue Oono
Art design by:
Mika Nakajima
Mechanical and prop design by:
Takeshi Takakura
Recording adjustment by:
Takayuki Yamaguchi
Recording assistant:
Shō Ogasawara
Sound production manager:
Keisuke Naruse
Publicity producer:
Takashi Iida
Publicity assistant:
Fūta Takei
Editing by:
Kashiko Kimura
Video editing desk:
Yoshito Ashino
Studio:
Madhouse
Network:
Tokyo MX, KBS, SUN, TVA, BS Fuji, AT-X
OP theme:
"Tenkyō no Alderamin (天鏡のアルデラミン)"
by Kisida Kyoudan & The Akebosi Rockets
Ending theme:
"nameless"
by Kano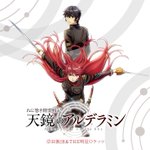 Main cast
:
Ikta Solork (イクタ・ソローク)
voiced by Nobuhiko Okamoto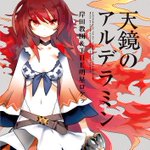 Yatorishino Igsem (ヤトリシノ・イグセム)
voiced by Risa Taneda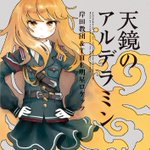 Shamille Kitra Katvarnmaninik (シャミーユ・キトラ・カトヴァンマニニク)
voiced by Inori Minase
Torway Remeon (トルウェイ・レミオン)
voiced by Ryōsuke Kanemoto
Matthew Tetdrich (マシュー・テトジリチ)
voiced by Junji Majima
Haroma Beckel (ハローマ・ベッケル)
voiced by Haruka Chisuga
Supporting
cast:
Kus (クス)
voiced by Eri Suzuki

'
Official site:


Synopsis:
At war with the adjacent Kioka Republic, the Katjvarna Empire. In that region, due to certain circumstances, there was a certain youth unwillingly preparing to take the High Grade Military Officer Exam. His name, Ikta. Disliker of war, lazy, admirer of women. No one predicted that that kind of Ikta would later on become a soldier referred to even as a great commander... He who survived a world embroiled in war with his superior genius, Ikta. Illustrating his dynamic, dramatic life, a splendid fantasy military history, the curtain is raised at last!
QUOTE
(Norren @ Jul 3 2016,07:29 PM)LN and Manga with a well liked shounen art style being given a shoujo art style that doesn't really seem to suit any of the characters or story?
Did the publisher run out of money
actually
its designs in ep'1 didn't bother me as Much, as
Amanchu
or
Orange