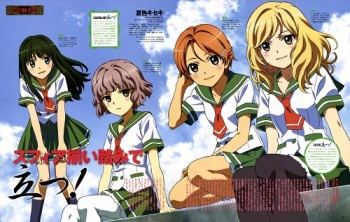 Genre
: slice-of-life
Studio
: Sunrise
Plot Summary
: Natsumi, Saki, Yuka, and Ringo are best friends. They've grown up in an old agricultural town, experiencing everything together, both happy and sad. But one summer, they are visited by a miracle.
Episode
: 12
Vintage
: 2012-04-05
Opening Theme
:
"Non stop road" by Sphere
Ending Theme
:
"Ashita e no Kaerimichi" by Sphere
Main Seiyuu
:
Aki Toyosaki as Rinko
Ayahi Takagaki as Saki
Haruka Tomatsu as Yuka
Minako Kotobuki as Natsumi
Thoughts
:
After the first episode watched, I don't have a clue of what this anime is about or what they might do. The girls promised to be idols while being kids and and in the end of this first episode, they encountered a awkward miracle out of nowhere. It is better to wait for 1 or 2 more episodes before judging this.