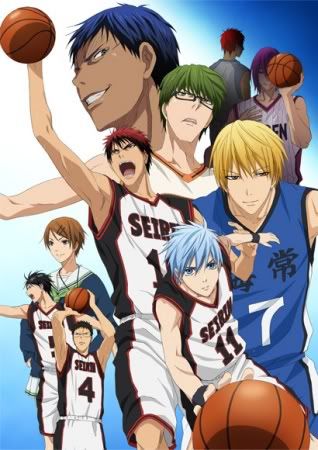 Title:
Kuroko no Basket; Kuroko no Basuke; Kuroko's Basketball (English)
Date Aired:
Apr 8, 2012
Producers:
Production I.G, Bandai Visual, Lantis, NAS
Director:
Shunsuke Tada
Genres:
Comedy, School, Shounen, Sports
Episodes:
Unknown but at least 13 confirmed
Synopsis:
Kuroko is a member from the legendary middle school basketball team known as "The Generation of Miracles", and while nobody seems to know about him, the main 5 players of the team all admit that he is a better player. When he joins the high school basketball team, everyone is surprised to find out that he is small, weak, and easy to miss. What is the secret that makes him so strong, and how will he help his high school team?
(Source: MAL, ANN, Mangafox)
My Thoughts:
There's only been a few basketball themed anime that I can remember off the top of my head. So being somebody who consumes sports like daily supplements I'm extra interested in this anime. It's good to see basketball getting a shot at some air time by the networks; usually it's mainly soccer and baseball getting the occasional sports anime shows.