~ Dark Pun Master ~
Staff member
Leader Council
Title:
Kabaneri of the Iron Fortress
Japanese:
甲鉄城のカバネリ
Airing date:
7/4/2016
(TV series)
Genres:
Action, Fantasy, Steampunk, Drama, Supernatural
Script by:
Hiroshi Seko
Original character designer:
Haruhiko Mikimoto
Director:
Tetsurō Araki
and
Hiroyuki Tanaka
(assistant)
Written by:
Ichirō Ōkouchi
Music by:
Hiroyuki Sawano
Animation character designer:
Yasuyuki Ebara
Chief animation directors:
Hirotaka Marufuji, Kyoji Asano
and
Yasuyuki Ebara
Action animation directors:
Tatsurō Kawano
and
Yuuko Sera
Director of photography:
Kazuhiro Yamada
Sound director:
Masafumi Mima
3D director:
Shuhei Yabuta
Art director:
Shunichiro Yoshihara
Art design by:
Kaoru Aoki
and
Yoshihiro Sono
Color design by:
Ken Hashimoto
Prop design by:
Shinobu Tsuneki
Design cooperation by:
Shingo Tamagawa
Overall setting:
Junpei Kasaoka
Main animator:
Kyouhei Tezuka
Sound effects by:
Shizuo Kurahashi
World adjustment by:
Kiyomune Miwa
Editing by:
Aya Hida
Studio:
Wit Studio
Network:
Fuji TV
(Noitamina),
Amazon Prime
Opening theme:
"KABENERI OF THE IRON FORTRESS"
by EGOIST
Ending theme:
"ninelie"
by Aimer × chelly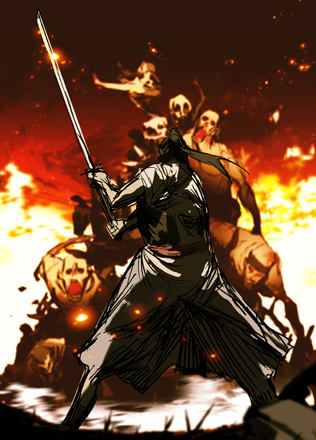 Main cast
:
Ikoma (生駒)
voiced by Tasuku Hatanaka
Mumei (無名)
voiced by Sayaka Senbongi
Supporting
cast:
Ayame (菖蒲)
voiced by Maaya Uchida
Kurusu (来栖)
voiced by Toshiki Masuda
Takumi (逞生)
voiced by Yūki Kaji
Kajika (鰍)
voiced by Kanae Oki
Yukina (侑那)
voiced by Mariya Ise
Sukari (巣刈)
voiced by Ryōta Ōsaka
Kibito (吉備土)
voiced by Kensuke Satō
Biba (美馬)
voiced by Mamoru Miyano
Pv
HP


Synopsis:
As the world is in the middle of an industrial revolution, a monster appears that cannot be defeated unless its heart, which is protected by a layer of iron, is pierced. By infecting humans with its bite, the monster can create aggressive and undead creatures known as Kabane. On the island Hinomoto, located in the far east, people have built stations to shelter themselves from these creatures. People access the station, as well as transport wares between them, with the help of a locomotive running on steam, called Hayajiro. Ikoma, a boy who lives in the Aragane station and helps to build Hayajiro, creates his own weapon called Tsuranukizutsu in order to defeat the creatures. One day, as he waits for an opportunity to use his weapon, he meets a girl named Mumei, who is excused from the mandatory Kabane inspection. During the night, Ikuma meets Mumei again as he sees Hayajiro going out of control. The staff on the locomotive has turned into the creatures. The station, now under attack by Kabane, is the opportunity Ikoma has been looking for.
QUOTE
(Norren @ Feb 02 2016, 03:29 AM)Seisen Cerberus - I'm in the mood for fantasies, and while I really don't expect this one to be good... (It's an adaptation of a Cellphone game, FFS.) it should at l east be amusing.
while
Sōsei no Onmyōji has Kegares instead, i prefer KnK's art and animation