~ Dark Pun Master ~
Staff member
Leader Council
Title:
Knight's & Magic
Japanese:
ナイツ&マジック
Airing dare:
2/7/2017
(TV series 13 episodes)
Genres:
Action, Adventure, Fantasy, Science fiction, Mecha
Original creator:
Hisago Amazake-no
Original character designers:
Kurogin
(light novel) and
Takuji Katō
(manga)
Director:
Yūsuke Yamamoto
Written by:
Michiko Yokote
and
Noboru Kimura
(script)
Music by:
Masato Kōda
Character designer:
Kenichirō Katsura
Chief animation directors:
Tomoko Fukunaga
and
Yūko Yamada
Art director:
Kenta Masuda
Sound director:
Jin Aketagawa
CGI director:
Eiji Inomoto
Effect animation director:
Takashi Umeda
Director of photography:
Hiroshi Satō
Key animation by:
Shinya Takahashi
(ep 1)
Art design by:
Kazushi Fujii
Color design by:
Yukari Fujiki
Mechanical design by:
Hidetaka Tenjin
2D design by:
Hirofumi Araki
Conceptual design by:
Kazutaka Miyatake
and
Takahiro Kishida
Prop design by:
Atsushi Irie
Editing by:
Megumi Uchida
Producers:
Ryūtaro Kawakami, Ryōta Ozaki
and
Emi Kashimura
Studio:
8-Bit
Network:
AT-X, Tokyo MX, KBS, SUN, BS11
Opening theme:
"Hello! My World!!"
by Fhána
Ending theme:
"You & I (ユー&アイ)"
by Ayaka Ohashi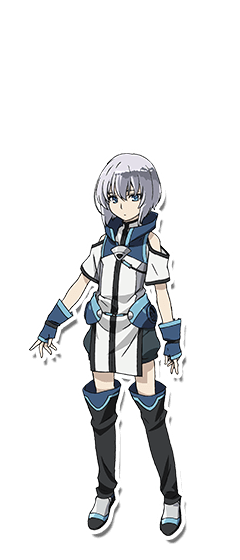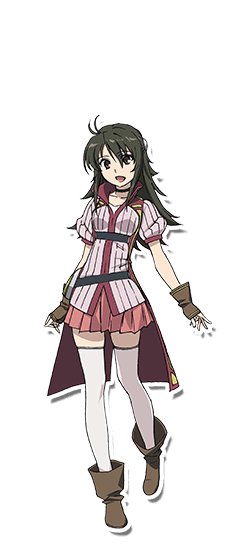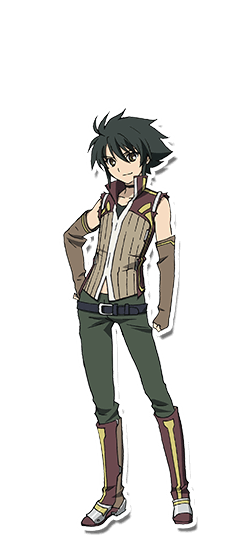 Main cast
:
Ernesti "Eru" Echavalier (エルネスティ・エチェバルリア "エル")
voiced by Rie Takahashi (JP), Justin Briner (EN) and Alexis Tipton (child)
Adeltrud "Addy" Olter (アデルトルート・オルター "アディ")
voiced by Ayaka Ōhashi (JP) and Jeannie Tirado (EN)
Archid "Kid" Olter (アーキッド・オルター "キッド")
voiced by Shinsuke Sugawara (JP) and Stephen Fu (EN)
Supporting
cast:
Edgar C. Blanche (エドガー・C・ブランシュ)
voiced by Yasuaki Takumi (JP) and Christopher Wehkamp (EN)
Dietrich Knitz (ディートリヒ・クーニッツ)
voiced by Kazuyuki Okitsu (JP) and Josh Grelle (EN)
Helvi Oberi (ヘルヴィ・オーバーリ)
voiced by Shizuka Itō (JP) and Morgan Garrett (EN)
Batson Termonen (バトソン・テルモネン)
voiced by Natsumi Fujiwara (JP) and Ryan Reynolds (EN)
David Hepken (ダーヴィド・ヘプケン)
voiced by Atsushi Imaruoka (JP) and Cris George (EN)
Lauri Echavalier (ラウリ・エチェバルリア)
voiced by Masaru Ikeda (JP) and John Swasey (EN)
Mathias Echavalier (マティアス・エチェバルリア)
voiced by Hidetaka Tenjin (JP) and Aaron Roberts (EN)
Celestina Echavalier (セレスティナ・エチェバルリア) / Narration (ナレーション)
by Sayaka Ōhara (JP) and Rachael Messer (EN)
Stefania Serrati (ステファニア・セラーティ)
voiced by Sayaka Senbongi (JP) and Tia Ballard (EN)
Tsubasa Kurata (倉田翼)
voiced by Daisuke Sakaguchi (JP) and Eric Vale (EN)
Olver Bromdal (オルヴァー・ブロムダール)
voiced by Yoshitsugu Matsuoka (JP) and Jerry Jewell (EN)
http://www.youtube.com/watch?v=p4gSzsfTsFA
http://www.youtube.com/watch?v=cFdtq1FjE4s


Synopsis:
A mecha otaku is reincarnated into another world as Ernesti Echevarria, also known as Eru. In this world, huge humanoid weapons known as Silhouette Knights exist. Dreaming of piloting those robots, Eru and his friends, Archid Olter and Adeltrud Olter, aim to become Knight Runners.
Norren said:

Knight's & Magic - An Overworked Programmer and GunPla/Mecha Otaku has a fateful encounter with Truck-san and is killed instantly
unlike
Fuuka,
in her anime
;/ K&M? 1st series I'll keep watching this Summer