~ Dark Pun Master ~
Staff member
Leader Council
Title:

Kino's Journey -the Beautiful World-

the Animated Series

Japanese:

キノの旅

Airing dates:

6/10/2017

(2nd TV series) and

8/4/2003

(1st season)

Theatrical release dates:

21/4/2007

(For You movie) and

2/19/2005

(Life Goes On prequel)

Genres:

Action, Adventure, Fantasy, Science fiction, Psychological, Slice of Life

Original creator:

Keiichi Sigsawa

Original character designer:

Kōhaku Kuroboshi

Director:

Tomohisa Taguchi

Written by:

Yukie Sugawara

Music by:

Yoshiaki Dewa

Character designer:

Ryōko Amisaki

Chief animation director:

Seiji Tachikawa

Sound director:

Satoki Iida

Director of photography:

Ryūji Hirakawa

Color design by:

Saori Gōda

Prop design by:

Takao Takegami

and

Tomohito Hirose

Sound effects by:

Tsutomu Ueno

Key animation by:

Hiroaki Kawaguchi

and

Shirō Okumura

(ep 1)

Studios:

Lerche

(2017),

Shaft

(movie),

A.C.G.T

(2003 and prequel)

Network:

AT-X, Tokyo MX, KBS, SUN, BS11

Opening theme:

"Here and There"

by Nagi Yanagi

Ending theme:

"Satō-dama no Tsuki (砂糖玉の月)"

by Nagi Yanagi

S1 OP theme:

"All the Way"

by Mikuni Shimokawa

S1 ED theme:

"The Beautiful World"

by Ai Maeda

Movie ED theme:

"Bird"

by Mikuni Shimokawa

Prequel ED theme:

"Hajimari no Hi"

by Ai Maeda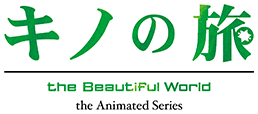 Main cast
:
Kino (キノ)
voiced by Aoi Yūki (2017), Ai Maeda (2003), Aya Hisakawa (drama CD, Dengeki Bunko: Fighting Climax), Kelli Cousins (English) and Gabi Chennisi (young)
Hermes (エルメス)
voiced by Sōma Saitō (2017), Ryūji Aigase (2003), Junko Noda (CD), Cynthia Martinez (EN)
Supporting
cast:
Shizu (シズ)
voiced by Yūichirō Umehara (2017), Takashi Irie (2003) and Clint Bickham (EN)
Riku (陸)
voiced by Kenichirō Matsuda (2017) and Hōchū Ōtsuka (2003)

Tea (ティー)
voiced by Ayane Sakura
Shishō (師匠 / Master)
voiced by Lynn (2017), Junko Midori (2003), Akeno Watanabe (2nd game) and Jennie Welch (EN)
Aibō (相棒 / Partner)
voiced by Kazuyuki Okitsu
Photo (フォト)
voiced by Inori Minase
Sō (ソウ)
voiced by Megumi Ogata
http://www.youtube.com/watch?v=ij21njEpveg
http://www.youtube.com/watch?v=EKRSIs_FIOg
Synopsis:
"The world is not beautiful, therefore it is." A story about Kino, who travels around the world with nothing but her guns for protection and talking motorcycle Hermes. Kino travels to many mystical worlds, each with its unique customs and people, and learns about the world through their stories, at times conjuring humor and inspiration or other times piercing cynicism. However, Kino has her own custom, to stay no longer than three days in every town without exception, as it is enough time to learn almost everything important about the place while still leaving time to explore new lands.
gdpetti said:

"Kino no Tabi: The Beautiful World'... is this a remake? sounds like I watched this last year... pretty sure I did. LIked it.... it was different... don't remember it ending so much as fading away into the mist or something like that... perhaps they didn't cover all of the manga/LN or whatever it was based on? Ok, just checked it out... was in my favorites list... from 2003, so a remake of the LN series... Hmmm.
just saw
ep'1 is brand new so i say s2, a reboot telling by its cast or both :huh: