~ Dark Pun Master ~
Staff member
Leader Council
Title:
Restaurant to Another World
Japanese:
異世界
食
堂
Airing date:
3/7/2017
(TV series 12 episodes)
Genres:
Comedy, Fantasy, Mystery, Seinen
Original creator:
Junpei Inuzuka
Original character designers:
Katsumi Enami
(light novel) and
Takaaki Kugatsu
(manga)
Director:
Masato Jinbo
Unit director:
Yūta Takamura
(ep 1)
Written by:
Hiroyuki Shimazu
Music by:
Miho Tsujibayashi
and
TOMISIRO
Character designers:
Takao Sano
and
Keiichi Sano
Art director:
Shinji Katahira
Sound director:
Masanori Tsuchiya
Director of photography:
Atsushi Satō
Color design by:
Shiho Mizumoto
Prop design by:
Yasuhiro Moriki
Editing by:
Yūji Kondō
Studio:
Silver Link
Network:
TV Tokyo, AT-X, BS Japan
Opening theme:
"One In A Billion"
by Wake Up, May'n!
Ending theme:
"Chiisana Hitotsubu (ちいさなひとつぶ / A Small Grain)"
by Kiyono Yasuno

Main cast
:
Aletta (アレッタ) / "Steamed Potato With Butter"? (じゃがバター)
voiced by Sumire Uesaka (JP) and Jill Harris (EN)
Owner (店主 / Tenshu) / Master (マスター)
voiced by Junichi Suwabe (JP) and Christopher R. Sabat (EN)
Black "Kuro" (クロ 『黒』) / "Chicken Curry"? (チキンカレー)
voiced by Saori Ōnishi (JP) and Monica Rial (EN)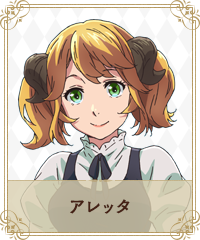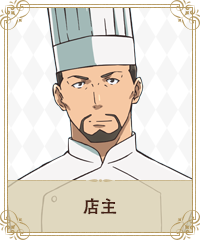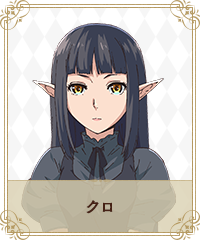 Guests:
Sarah Gold (サラ・ゴールド) / "Mince Meat Cutlet II" (メンチカツ2 世)
voiced by Kiyono Yasuno (JP) and Caitlin Glass (EN)
Red Queen (赤の女王) / "Beef Stew" (ビーフシチュー)
voiced by Shizuka Itō (JP) and Stephanie Young (EN)
Altorius (アルトリウス) / "Pork Loin-Cutlet" (ロースカツ)
voiced by Motomu Kiyokawa (JP) and Charlie Campbell (EN)
Tatsugorō (タツゴロウ) / "Teriyaki Chicken" (テリヤキ)
voiced by Hōchu Ōtsuka (JP) and John Swasey (EN)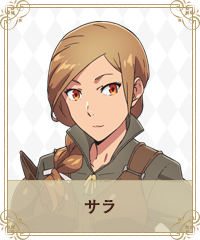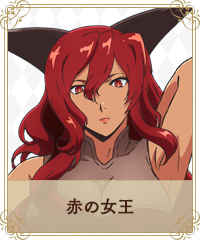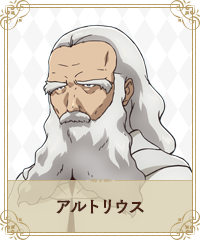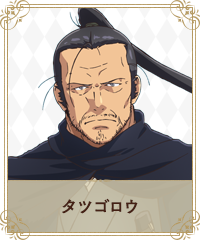 Heinrich Seeleman (ハインリヒ・ゼーレマン) / "Fried Shrimp" (エビフライ)
voiced by Tomokazu Sugita (JP) and J. Michael Tatum (EN)
Adelheid (アーデルハイド) / "Chocolate Parfait" (チョコレートパフェ)
voiced by Reina Ueda (JP) and Jeannie Tirado (EN)
Thomas Alfade (トマス・アルフェイド) / "Meat Sauce" (ミート ソース)
voiced by Yusaku Yara (JP) and Barry Yandell (EN)
Sirius Alfade (シリウス・アルフェイド) / "Napolitan" (ナポリタ ン)
voiced by Hiro Shimono (JP) and Stephen Fu (EN)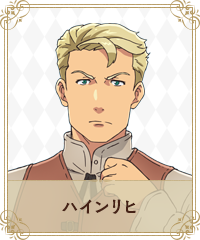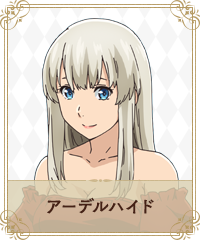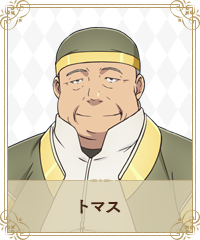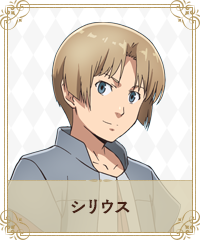 Gagampo (ガガンポ) / "Omelette Rice" (オムライス)
voiced by Makoto Yasumura (JP) and Tyson Rinehart (EN)
Fardania (ファルダニア) / "Tofu Steak"? (豆腐ステーキ)
voiced by Yōko Hikasa (JP) and Dawn M. Bennett (EN)
Lionel (ライオネル) / "Pork Cutlet Rice Bowl" (カツ丼)
voiced by Nobuyuki Hiyama (JP) and Jeremy Inman (EN)
Victoria Samanac (ビクトリア・サマナーク) / "Pudding a la Mode" (プリンアラモード)
voiced by Yukari Tamura (JP) and Jad Saxton (EN)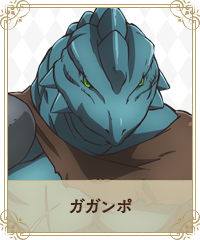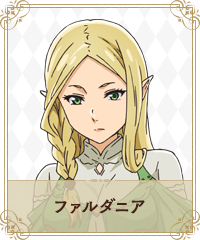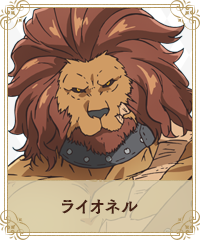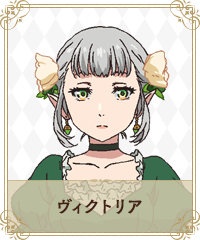 Alphonse Flügel (アルフォンス・フリューゲル) / "Curry Rice" (カレーライス)
voiced by Fumihiko Tachiki (JP) and Jeremy Schwartz (EN)
Roukei (ロウケイ)
voiced by Yoshitsugu Matsuoka (JP) and Howard Wang (EN)
Arte (アルテ) / "Hamburg Steak" (ハンバーグ)
voiced by Ayaka Suwa (JP) and Amber Lee Connors (EN)
Shia Gold (シア・ゴールド) / "Assorted Cookies"? (クッキーアソート)
voiced by Sumire Morohoshi (JP) and Felecia Angelle (EN)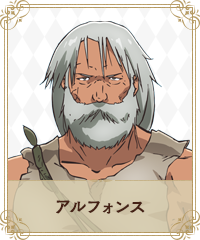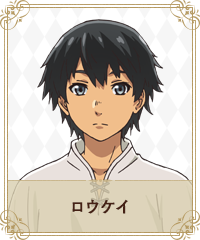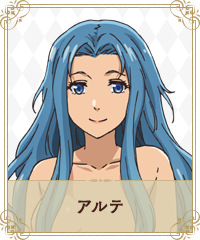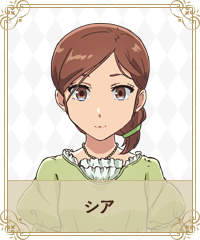 Gard (ガルド) / "Fried Seafood"? (シーフードフライ)
voiced by Tomoyuki Shimura (JP) and Bill Jenkins (EN)
Guilhem (ギレム)
voiced by Tetsu Inada (JP) and Greg Dulcie (EN)
Renner (ラナー) / "Cream Soda Float" (クリームソーダ)
voiced by Shino Shimoji (JP) and Elizabeth Maxwell (EN)
Prince Shareef (シャリーフ王子) / "Coffee Float" (コーヒーフロート)
voiced by Atsushi Tamaru (JP) and Ricco Fajardo (EN)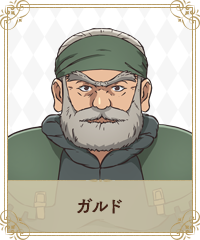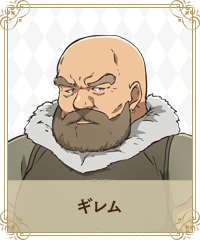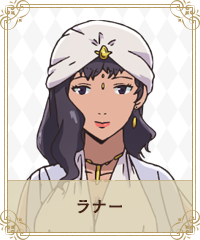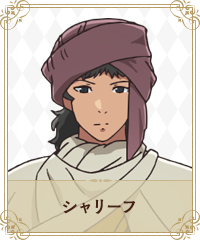 Christian (クリスティアン) / "Natto Spaghetti"? (納豆スパ)
voiced by Katsuyuki Konishi (JP) and Patrick McAlister (EN)
Arius (アーリウス) / "Carpaccio"? (カルパッチョ)
voiced by Ayaka Asai (JP) and Mikaela Krantz (EN)
Iris (イリス)
voiced by Nao Tōyama (JP) and Bryn Apprill (EN)
Alexander (アレクサンデル)
voiced by Takahiro Sakurai (JP) and Micah Solusod (EN)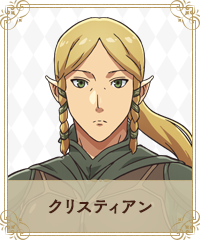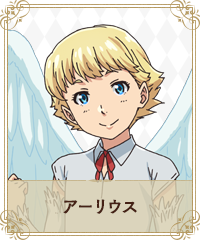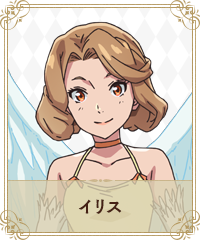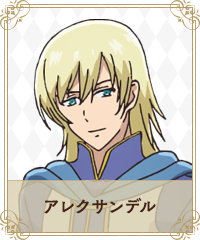 Others:
Wilhelm (ヴィルヘイム) / "Croquette" (コロッケ)
voiced by Hiroshi Naka (JP) and Bruce Carrey (EN)
Tiana Silvario XVI (ティアナ・シルバリオ16世) / "Crêpe"? (クレープ)
voiced by Yoshino Aoyama (JP) and Anastasia Muñoz (EN)
Balrog (バルログ)
voiced by Masayuki Katō (JP) and Cris George (EN)
Edmond (エドモンド)
voiced by Susumu Chiba (JP) and Aaron Roberts (EN)
Daiki Yamagata (山方大樹) / The Previous Owner (先代店主 / Sendai Tenshu)
voiced by Kazuhiko Inoue
Yomi (ヨミ) / Koyomi Yamagata (山方暦)
voiced by Kikuko Inoue
William Gold (ウィリアム・ゴールド) / "Minced Meat Cutlet" (メンチカツ)
http://www.youtube.com/watch?v=5EDOjyLx_js
http://www.youtube.com/watch?v=Y7DuhSollYQ

Synopsis:
At the bottom floor of the building with a dog signboard, in the shopping district near the office street, there lies a cafeteria called "Youshoku no Nekoya," that has an illustration of a cat on the door. It's been open for fifty years and has satisfied various salarymen from nearby offices. Despite it being called a Western cuisine cafeteria, it also provides other varieties of menus. For the people of this certain world, it's their one-and-only special cafeteria. There is, however, one secret to "Nekoya." The cafeteria is closed to the public every Saturday in order to make way for special guests. When a bell rings, customers from different places of birth and races appear who ask for mysterious and delicious dishes. They are actually the same dishes served to the salarymen, but these special guests find them to be more exotic than to what they are used to. As the cafeteria aims to serve masterpieces, it is usually referred as "Isekai Shokudou." And so, the bell rings again this week.
gdpetti said:

Isekai Shoukodou looks like a mystery restaurant plotline??? odd... made me think of a couple of others, like that one in Paris or Italy? then the one named Bartender? I think it was.... which I liked..
i enjoy
ed
Shokugeki no Sōma
,
Amaama to inazuma
and
Kōfuku graffiti
i'm in!