~ Dark Pun Master ~
Staff member
Leader Council
Title:
GOLDEN KAMUY
(Kinkamu)
Japanese:
ゴールデンカムイ
(金カム)
Airing dates:
9/4/2018
(TV series 24 episodes),
8/10/2018
(2nd season),
16/4/2018
(22 short ONAs and OVA)
Release dates:
19/9/2018
(1st OVA) and
19/3/2019
(2nd OVA)
Genres:
Action, Adventure, Comedy, Historical, Military, Seinen
Original creator:
Satoru Noda
Directors:
Hitoshi Nanba
and
Takahiro Kawakoshi
(assistant)
Written by:
Noboru Takagi
Music by:
Kenichirō Suehiro
Character designer:
Kenichi Ōnuki
Art director:
Atsushi Morikawa
Sound director:
Jin Aketagawa
CG director:
Yūko Okumura, Yasutaka Hamada
(S1) and
Kōhei Hamada
(S2)
Director of photography:
Yuichiro Tozawa
Episode director:
Satoshi Toba
(ep 6)
Animation directors:
Motoki Yagi
and
Takaaki Wada
(ep 17)
Main animator:
Junichi Hayama
Key animation by:
Kazuko Nakayama
and
Tomokazu Shimabukuro
(ep 17)
Color design by:
Takahiro Mogi
Prop design by:
Shinya Anasuma
Animal design by:
Ryō Sumiyoshi
Firearm design by:
Kōji Watanabe
Editing by:
Gō Sadamatsu
Ainu language supervisor:
Hiroshi Nakagawa
Studio:
Geno
Network:
Tokyo MX, ytv, STV, BS11
Opening theme:
"Winding Road"
by MAN WITH A MISSION
Ending theme:
"Hibana"
by THE SIXTH LIE
2nd OP theme:
"Reimei (レイメイ)"
by Sayuri and MY FIRST STORY
2nd ED theme:
"Tokeidai no Kane (時計台の鐘 / The Clock Tower's Bell)"
by eastern youth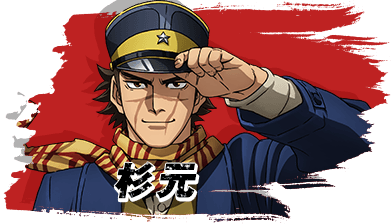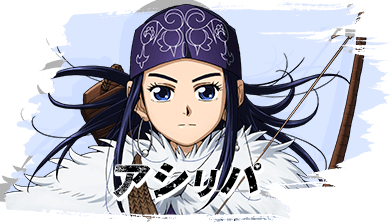 Main cast
:
Saichi "Immortal" Sugimoto (杉元佐一)
voiced by Chikahiro Kobayashi (JP) and Ian Sinclair (EN)
Asirpa (アシㇼパ) / Asuko Kochōbe (小蝶辺明日子)
voiced by Haruka Shiraishi (JP) and Monica Rial (EN)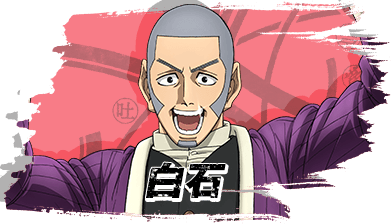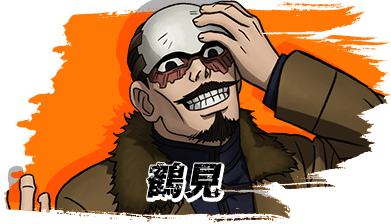 Yoshitake Shiraishi (白石由竹)
voiced by Kentarō Itō (JP) and Ben Phillips (EN)
Antagonists
then allies:
Lieutenant Tsurumi (鶴見中尉)
voiced by Hōchu Ōtsuka (JP) and David Wald (EN)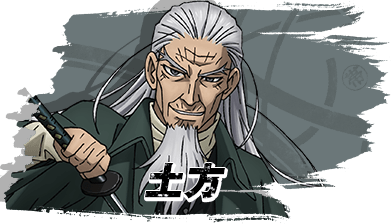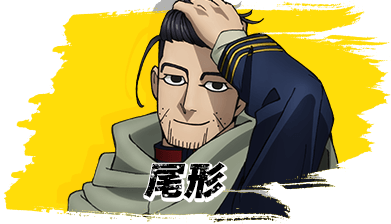 Toshizō Hijikata (土方歳三)
voiced by Jōji Nakata (JP), Yuichi Nakamura (young) and Greg Dulcie (EN)
Hyakunosuke Ogata (尾形百之助)
voiced by Kenjiro Tsuda (JP) and Orion Pitts (EN)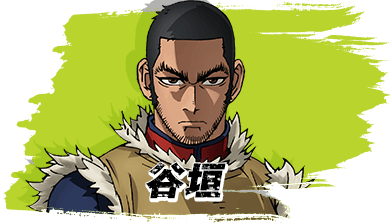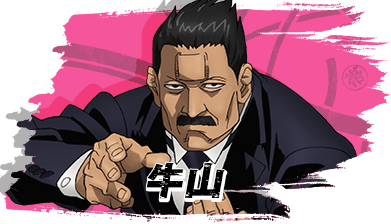 Genjirō Tanigaki (谷垣源次郎)
voiced by Yoshimasa Hosoya (JP) and David Matranga (EN)
Tatsuuma Ushiyama (牛山辰馬)
voiced by Kenji Nomura (JP) and Christopher R. Sabat (EN)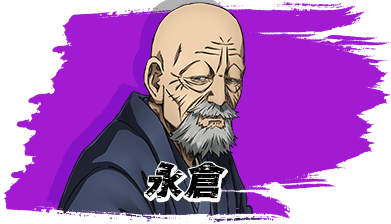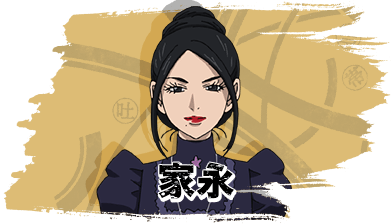 Shinpachi Nagakura (永倉新八)
voiced by Takayuki Sugo (JP), Kazuya Nakai (young) and Kent Williams (EN)
Supporting
cast:
Chikanobu (親宣) / Kano Ienaga (家永カノ)
voiced by Sayaka Ohara (JP) and Terri Doty (EN)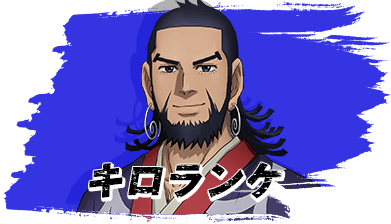 Kiroranke (キロランケ) / Yulbars (ユルバルス / Юлбарс)
voiced by Masaki Terasoma (JP) and Ricco Fajardo (EN)
Inkarmat (インカㇻマッ)
voiced by Mamiko Noto (JP) and Felecia Angelle (EN)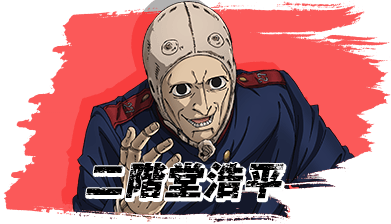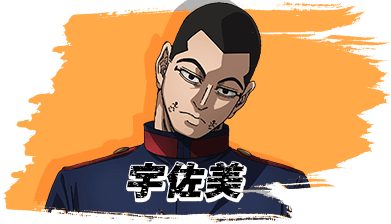 Yōhei (洋平)
and
Kōhei Nikaidō (二階堂浩平)
voiced by Tomokazu Sugita (JP) and Stephen Sanders (EN)
Usami (宇佐美)
voiced by Yoshitsugu Matsuoka (JP) and Kyle Igneczi (EN)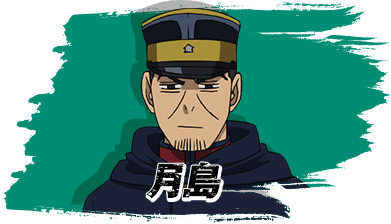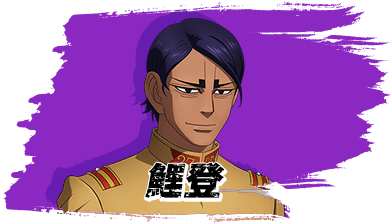 Hajime Tsukishima (月島基)
voiced by Eiji Takemoto (JP) and Quinn Angell (EN)
Otonoshin Koito (鯉登音之進)
voiced by Katsuyuki Konishi (JP) and Daman Mills (EN)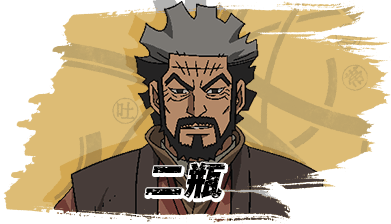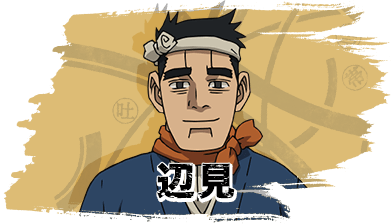 Tetsuzō Nihei (二瓶鉄造)
voiced by Akio Ōtsuka (JP) and Jarrod Greene (EN)
Kazuo Henmi (辺見和雄)
voiced by Toshihiko Seki (JP) and Austin Tindle (EN)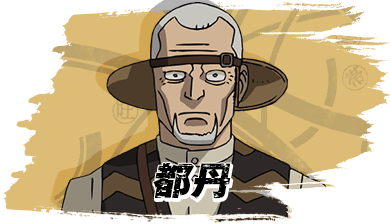 Yasaku Edogai (江渡貝弥作)
voiced by Yuuma Uchida (JP) and Brandon McInnis (EN)
Anji Toni (都丹庵士)
voiced by Yū Mizushima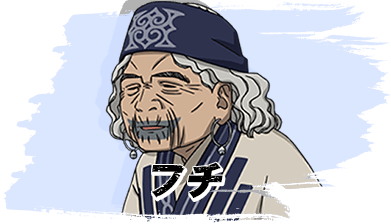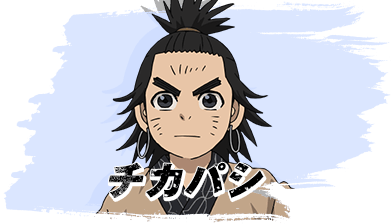 Asirpa's grandmother "Huci" (フチ)
voiced by Miyuki Ichijō (JP) and Jessica Cavanagh (EN)
Cikapasi (チカパシ)
voiced by Akeno Watanabe (JP) and Howard Wang (EN)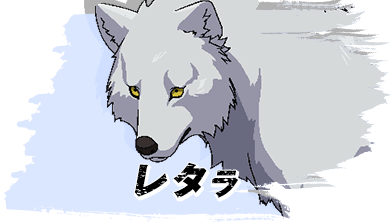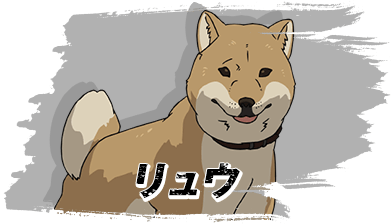 Retar (レタ)
Ryū (リュウ)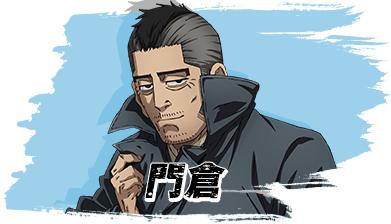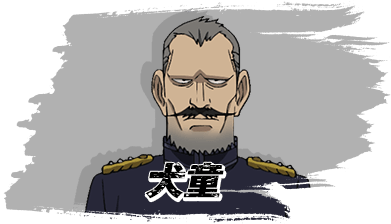 Kadokura (門倉)
voiced by Yoshito Yasuhara (JP) and David Novinski (EN)
Shirosuke Inudō (犬童四郎助)
voiced by Takaya Hashi (JP) and Mark Stoddard (EN)
Kiyohiro Suzukawa / Fake Inudō (鈴川聖弘)
voiced by Taiten Kusunoki (JP) and Charlie Campbell (EN)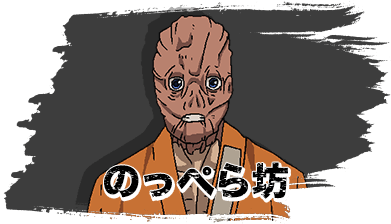 Wilk (ウイルク / Вилк) "Nopperabō (のっぺら坊 / No Face)"
voiced by Hiroki Tōchi (JP), Kōichi Sōma (fake) and Barry Yandell (EN)
Makanakkuru (マカナックル)
voiced by Atsushi Ono (JP) and Jim Johnson (EN)
Osoma (オソマ)
voiced by Ayaka Asai (JP) and Apphia Yu (EN)

Kenkichi Aoyama (青山賢吉)
voiced by Hiroo Sasaki (JP) and Aaron Roberts (EN)
Fumi Aoyama (青山フミ)
voiced Kimberly Grace (EN)
Chōan Kumagishi (熊岸長庵)
voiced by Toshio Furukawa

Kenzō Tamoto (田本研造)
voiced by Eizō Tsuda
Kirawus (キラウㇱ)
voiced by Tomoaki Maeno
Kantarō (夏太郎)
and
Kamezō (亀蔵)
voiced by Wataru Hatano
http://www.youtube.com/watch?v=0yeGQ0PyXpc
Toraji (寅次)
voiced by Yasuaki Takumi
Gotō (後藤)
voiced by Yutaka Aoyama
Narration (ナレーション)
by Fumihiko Tachiki (JP) and Marcus D. Stimac (EN)
http://www.youtube.com/watch?v=5olutLS6mdo
Synopsis:
In Hokkaido, the far northern lands of Japan, Sugimoto survived the Russo-Japanese war of the Meiji era. Nicknamed "Sugimoto the Immortal" during the war, he now seeks the riches promised by the gold rush in hopes of saving the widowed wife of his now deceased comrade from the war. During his hunt of gold, he finds hints of a hidden stash of gold by corrupt criminals. Partnering with an Ainu girl that saves his life from the harsh climates of the north, they venture into a survival adventure to race against the criminals that seek the hidden stash.
gdpetti said:
a gold rush ;p MC reminds me to Gats, sadly
Berserk
isn't animated like ep.1!