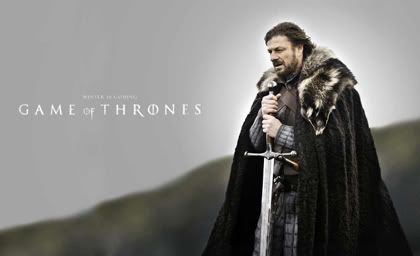 OP sequence:
http://www.youtube.com/watch?v=s7L2PVdrb_8
Series debut in the US: April 17, 2011
Episode#: 10
Game of Thrones is a medieval fantasy television series created for HBO by David Benioff and D. B. Weiss, featuring a predominantly British cast. The series is based on author
George R. R. Martin
's best-selling
A Song of Ice and Fire
series of seven planned fantasy novels, the first of which is called A Game of Thrones.
Set in the Seven Kingdoms of Westeros, where "summers span decades and winters can last a lifetime," Game of Thrones chronicles the violent dynastic struggles among the kingdom's seven noble families for control of the Iron Throne; as the series opens, additional threats from the snow and ice covered region north of Westeros and from the eastern continent across a narrow sea are simultaneously beginning to rise.
(http://en.wikipedia.org/wiki/Game_of_Thrones)
Main Characters:
Eddard Stark - Sean Bean
Robert Baratheon - Mark Addy
Tyrion Lannister - Peter Dinklage
Catelyn Stark - Michelle Fairley
Jaime Lannister - Nikolaj Coster-Waldau
Cersei Lannister - Lena Headey
Daenerys Targaryen - Emilia Clarke
Jorah Mormont - Iain Glen
Petyr Baelish - Aidan Gillen
Viserys Targaryen - Harry Lloyd
Jon Snow - Kit Harington
Robb Stark - Richard Madden
Sansa Stark - Sophie Turner (not the supermodel)
Arya Stark - Maisie Williams
Theon Greyjoy - Alfie Allen
Bran Stark - Isaac Hempstead-Wright
Joffrey Baratheon - Jack Gleeson
Sandor Clegane - Rory McCann
Khal Drogo - Jason Momoa
Overall I enjoyed the series immensely. Among the best points of the series, is great acting, strong characters, beautiful, well-thought-out world and plot, and I jsut have to point out Peter Dinklage's just marvelous play here. One thing I want point out as bad is how short the series was. Every episode left me waiting for the next one, but even though they where an hour long each, they felt shorter than Bleach episodes minus op ed and recap
. Second season was confirmed though, so I'm looking forward to that.
My score as for a series is 9/10
Anyone else watched it? Did you enjoy it? Or if you didn't would you want to see it?
----
Season 2 Teaser:
http://www.youtube.com/watch?v=SwvtkirHz5s