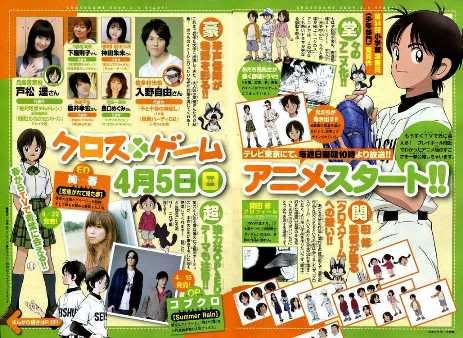 Title: Cross Game
Genre: Romantic comedy, Sports (baseball)
Author: Mitsuru Adachi
Release Date: 2009-04-00
Plot: (from wiki)
Kō Kitamura, son of the owner of Kitamura Sports, lives in the same neighborhood as the batting center run by the Tsukishima family. Due to their proximity and the relationship between their businesses, the Kitamura and Tsukishima families have been close for many years, with their children going back and forth between the two homes like extended family. Because Kō and Wakaba are the same age and always together, Aoba is jealous of all the time Kō spends with her older sister. Aoba is a natural pitcher with excellent form, and Kō secretly trains to become as good as she is, even while publicly showing little interest in baseball.
----------------------------------------
if you love the classic anime "touch" or an anime sports fan, dont miss this anime its a must watch!!! its not really heavy on sports and is mostly romantic/slice-of-life kind of genre. if you like major, chances are you will like this anime too.
for those who have seen touch, its almost like it but much much better. cant wait for this one to come out. so far i read the manga and its actually pretty good. im so happy that this one is coming out...hoping it would be a 100+ episode. the manga is still currently running and has won a 2009 Shogakukan Manga Award for shōnen manga.