Thats right you are not hallucinating...this is a real
YAOI
spin-off series of the anime Blood+, which follows the character Hagi. Just to update you here's some info on the manga: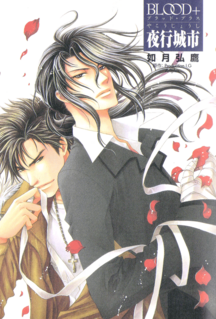 In Hong Kong, Nishi is an young policeman investigating a case of strange murders, where the victims appear to have died of a fatal blood loss. But the investigation is taken over by a mysterious organization, whose member warns Nishi that he had better not keep on trying to uncover the truth.
A while after, as Nishi wanders in the city, he is suddenly attacked by a monster, but hopefully a stranger saves him.
I personally liked the series thrown by Production I.G./Aniplex, besides it from being a professional yaoi manga series, but because it has a nice storyline including its plot and not some tacky story between two male characters. The drawings are spectacular and the male characters are gorgeous.
Don't miss on it.
SO be sure to check it. ^^
DDL
Scanlation
-d=_=b-