Biweekly necromendations:

Fruits Basket

,
first tv series from 2001 and remake
almost the same
pacing as originally yet better, like
Kagura's debut
in ep'4 :lol:
Less a biweekly necromendation than April fool's joke:
Cinderella Girls Theater
with ep'42
the idols bowling are used to carry heavy round objects everyday
More of a Biweekly necromendation than April Fool's:
Yōjo Senk'
isekai Quartet
ep.1 endcard
Re:Zero
,
0verlord
and
Konosuba
's waifus except Tanya the Evil
Biweekly necromendations:

ZokuOwarimonogatari

,
all other tv series and films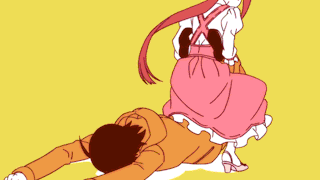 its end arc
continues for Arargi·khun 'through the looking glass' in March 26
Biweekly necromendation -

Gyakuten Saiban

: Sono "Shinjitsu" Igi Ari!

season 2
finally its series
picks up in ep'18, about to reveal the truth like Godot's past
http://www.youtube.com/watch?v=TOlWzlNk0nw
March:
Owarimonogatari
arc subbed preview -
Biweekly necromendation -

Space Battleship Yamato 2202: Warriors of Love
<3
not really
for Valentine's day despite its title, still best space opera lately!:wub:
Biweekly necromendations:

Sword Art 0nline Alicization

,
2 series too and films
Aside
killer lolis, up to ep.16 is
like Saint Seiya
(vs evil pontifex and knights):lol:
http://www.youtube.com/watch?v=n3zd6ZUBVlo
February Valentine's Day -
3D Girlfriend S2
PV:
Biweekly necromendations:

Ero

manga

-

sensei

,
series and finally 2 0VAs at once
almost 2
years waiting after tv eps, 1 left to be english-subbed but S2 when?
Biweekly necromendation:

Tate no Yūsha no Nariagari

,
Happy New Year preair
struggling hero
, not overpowered or fun and games unlike most Isekai series
http://www.youtube.com/watch?v=rKnyi3TRznA
January new year:
The rising of the Shield hero
Biweekly necromendation:

Yu

ru

Ca

m

p

△

,
aired too early to celebrate holidays
No anime cast
more fitting for Xmas this year, than Santa Crangers in ep.11 :d