Biweekly necromendation:

Fate/stay night Heaven's Feel II.lost butterfly
movie
at last
the BR·DVD is subbed, now to wait for springfall 2020 to see its finale
Biweekly necromendation:

Love Live! Sunshine!! 0ver the Rainbow

,
last movie?
so far
the best visually and animated from both idol series yet worse in plot
Kyoto Animation Arson Attack
: 34 died at Studio 1 on the morning of July 18th
one of the deadliest massacres
in Japan's history since the end of world war II
Biweekly necromendation:

Lord El·Melloi II Case Files
Rail Zeppelin Grace Note
finally a TV series sequel
to Fate/Zero prior /stay night, starring Waver Velvet
http://www.youtube.com/watch?v=GWc4ugCCo5I
July:
Lord El-Melloi II's Case Files
- TV series PV 3
Biweekly necromendations:

Neon Genesis Evangelion

now on Netflix,
End too?
to be released this June 21, hopefully its extended Rebuild edition and and films!
Biweekly necromendations:

One-Punch Man 2

,
especially 1st season and OVAs
finally in ep'8
saitama got serious after beating Suiryu, now time to save him!
http://www.youtube.com/watch?v=ws-Ugs_VUco
June who's your daddy? day:
OnePunMan 2
PV
Biweekly necromendation:

Kabaneri of the Iron Fortress

film 3
Battle of Unato
after 3 years
that S1 ended and 2 tv recap movies, finally a sequel of 3 eps!^_^
Biweekly necromendations:

Fruits Basket

,
first tv series from 2001 and remake
almost the same
pacing as originally yet better, like
Kagura's debut
in ep'4 :lol:
http://www.youtube.com/watch?v=KOg8CC_ONHU
May Mothers' day:
Fruits Basket
remake trailer
Less a biweekly necromendation than April fool's joke:
Cinderella Girls Theater
with ep'42
the idols bowling are used to carry heavy round objects everyday
More of a Biweekly necromendation than April Fool's:
Yōjo Senk'
isekai Quartet
ep.1 endcard
Re:Zero
,
0verlord
and
Konosuba
's waifus except Tanya the Evil
http://www.youtube.com/watch?v=khnabO9BUJg
April fool's day (for Yōjo Senki):
Isekai Quartet
-
Biweekly necromendations:

ZokuOwarimonogatari

,
all other tv series and films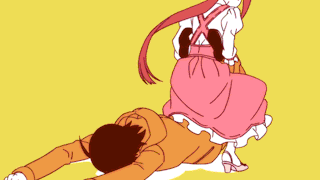 its end arc
continues for Arargi·khun 'through the looking glass' in March 26