~ Dark Pun Master ~
Staff member
Leader Council
Title:
BERSERK
Japanese:
ベルセルク
Airing date:
1/7/2016
(2nd TV series 24 episodes)
Genres:
Action, Adventure, Drama, Fantasy, Supernatural, Horror, Romance, Military, Seinen
Original creator:
Kentarō Miura
Director:
Shin Itagaki
Written by:
Makoto Fukami
and
Takashi Yamashita
Music by:
Shirō Sagisu
Character designer:
Hisashi Abe
Art director:
Hiromu Itō
(Kusanagi)
Sound director:
Yoshikazu Iwanami
Editing by:
Yuri Tamura
Studios:
Liden Films, GEMBA
and
Millepensee
Network:
WOWOW, MBS, TBS, CBC, BS-TBS
Opening theme:
"Inferno"
by 9mm Parabellum Bullet
Ending theme:
"Meimoku no Kanata (瞑目の彼方 / Beyond Closed Eyes)"
by Nagi Yanagi
Insert song:
"Hai yo (灰よ / Oh Ashes)"
by Susumu Hirasawa
Main cast
:
Guts (ガッツ)
voiced by Hiroaki Iwanaga
Farnese do Vandimion (ファルネーゼ・ド・ヴァンディミオン)
voiced by Yōko Hikasa
Serpico (セルピコ)
voiced by Kazuyuki Okitsu
Isidro (イシドロ)
voiced by Hiro Shimono
Puck (パック)
voiced by Kaoru Mizuhara
Casca (キャスカ)
voiced by Toa Yukinari
Griffith / Femto (グリフィス / フェムト)
voiced by Takahiro Sakurai
Skull Knight (髑髏の騎士)
voiced by Akio Ōtsuka
Void (ボイド) / Narration (ナレーション)
by Unshō Ishizuka
Supporting
cast:
Rickert (リッケルト)
voiced by Minako Kotobuki
Godo (ゴドー)
voiced by Takashi Inagaki
Erica (エリカ)
voiced by Ayana Taketatsu
Silat (シラット)
voiced by Yuichi Nakamura
Azan (アザン)
voiced by Hiroki Yasumoto
Luca (ルカ)
voiced by Miyuki Sawashiro
Nina (ニーナ)
voiced by Natsumi Takamori
Jerome (ジェローム)
voiced by Daisuke Hirakawa
Tapasa (ターパサ)
voiced by Kōji Ishii
Mozgus (モズグス)
voiced by Rikiya Koyama
Pv: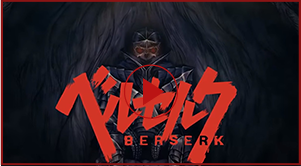 HP:



Synopsis:
Guts, known as the Black Swordsman, seeks sanctuary from the demonic forces that pursue him and his woman, and also vengeance against the man who branded him as an unholy sacrifice. Aided only by his titanic strength, skill, and sword, Guts must struggle against his bleak destiny, all the while fighting with a rage that might strip him of his humanity. Berserk is a dark and brooding story of outrageous swordplay and ominous fate, in the theme of Shakespeare's Macbeth.
QUOTE
(franzoir @ Mar 31 2016, 12:05 PM)This sounds sad and pathetic but it has taken me 4 years to work out what it is about Game of Thrones that rubs me the wrong way. Late last year I had the epiphany that Berserk is the original Game of Thrones and it all made sense. I have a love-hate relationship with Berserk. I was wayyyyyyy too young when I watched the original anime. It ended sooo horrifically with no resolution in sight. It was too much for my young mind to handle.
Even so...Berserk is one of those things where I am desperate for the end of the story. I cant read the manga because reading is a much more intimate experience than watching something and I just cant do it. So glad there is a new anime with new material. Been waiting maybe 14 years for it.
also ep.1
isn't censored but, many manga chapters are skipped (flashbacks?)