~ Dark Pun Master ~
Staff member
Leader Council
Title:
Snow White with the Red Hair
Japanese:
赤髪の白雪姫
Airing dates:
6/7/2015
(TV series) and
2016
(2nd season)
Genres:
Fantasy, Romance, Drama, Historical, Shoujo
Original creator:
Sorata Akizuki
Director:
Masahiro Andō
Written by:
Deko Akao
Music by:
Michiru Ōshima
Character designer:
Kumiko Takahashi
Art director:
Erika Okazaki
Sound director:
Kazuhiro Wakabayashi
Director of photography:
Hikaru Fukuda
Color design by:
Shihoko Nakayama
Design works by:
Shingo Takeba
Editing by:
Ayumi Takahashi
Studio:
Bones
Produced by:
Akagami no Shirayuki-hime Production Committee
Network:
Tokyo MX, ytv, TVA, BS Fuji, Animax
Opening theme:
"Yasashii Kibou (やさしい希望 / Gentle Hopes)"
by Saori Hayami
Ending theme:
"Kizuna ni Nosete (絆にのせて / Placing on Bonds)"
by Eyelis
Main cast
:
Shirayuki (白雪)
voiced by Saori Hayami
Zen Wistaria Clarines (ゼン・ウィスタリア・クラリネス)
voiced by Ryōta Ōsaka
Mitsuhide Lowen (ミツヒデ ルーエン)
voiced by Yuichiro Umehara
Kiki Seiran (木々・セイラン)
voiced by Kaori Nazuka
Obi (オビ)
voiced by Nobuhiko Okamoto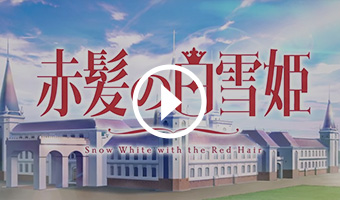 Izana Wistaria (イザナ・ ウイスタリア・クラリネス)
voiced by Akira Ishida
Garack Gazeld (ガラク・ガゼルド)
voiced by Yūko Kaida
Ryū (リユウ)
voiced by Yūko Sanpei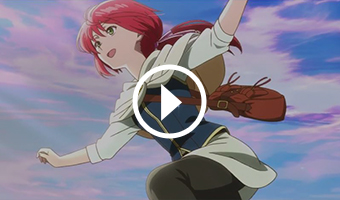 Tanbrun:
Raj Shenazade (ラジ・シェナザード)
voiced by Jun Fukuyama
Mihaya (巳早)
voiced by Toshiyuki Toyonaga
Sakaki (サカキ)
voiced by Katsuyuki Konishi
Rona Shenazade (ロナ・シェナザード)
Eugena Shenazade (ユジナ・シェナザード)
Clarines:
Marquis Haruka (ハルカ候)
Viscount Blaker (ブレッカ)
Kiharu Toghril (キハル・トグリル)
Hisame Lugis (ヒサメ・ルーギス)
Earl Seiran (エール・セイラン)
Haruto Wistaria (ハルト・ウィスタリア)
Zakura Sidnote (ザクラ)
Yatsufusa (八房)
Higata (ヒガタ)
Shikito (シキト)
Haki (ハキ)
Popo (ポポ)
Yūha (ユウハ)
Lyrias:
Yuzuri (ユズリ)
Sidan (シダン)
Suzu (鈴)
Kirito (キリト)
Kazaha (カザハ)
Idzul (イヅル)
The Mountain's Lions:
Mikaze (武風)
Kadzuki (鹿月)
Itoya (イトヤ)
Official website:
http://www.clarines-kingdom.com/
Synopsis:
Shirayuki was a young girl born with unique apple-red hair. She meets a famous but foolish Prince Raji, who falls in love with her at first sight and orders her to become his concubine. With nowhere else to go, Shirayuki cuts her hair and escapes to a neighboring country. While traversing through the forests, she meets a young boy, Zen, who helps her after she boldly cures his wounds but then gets poisoned by an apple given to Shirayuki. Meanwhile, Prince Raji sends out henchmen to search for her. What will happen to Shirayuki? What is Zen's true character? A refreshing fantasy story between an optimistic heroine and a prince who constantly stays on her watch.
QUOTE
(Norren @ Mar 31 2015, 04:06 AM)Akagami no Shirayuki-hime!I liked ep.1, another anime I recall based on Snow White's tale was Prétear