Title:
The Rising of the Shield Hero
Japanese:
盾の勇者の成り上がり
Airing dates:
31/12/2018
(1-hour preair special) and
9/1/2019
(TV series 2 cours)
Genres:
Action, Adventure, Fantasy, Comedy, Romance, Drama, Seinen
Original creator:
Aneko Yusagi
Original character designer:
Minami Seira
(light novel) and
Aiya Kyū
(manga)
Director:
Takao Abo
Written by:
Keigo Koyanagi
Music by:
Kevin Penkin
Character designer and chief animation director:
Masahiro Suwa
3D director:
Yuushi Koshida
(Orange)
Sound director:
Fumiyuki Gō
Director of photography:
Yukiyo Kajiwara
Design by:
Takeshi Takakura
(Leader)
Color design by:
Anna Okamatsu
Prop design by:
Ayako Sugimura
Monster design by:
Satoshi Mori
Key animation by:
Satoshi Shigeta, Shinpei Wada
and
Yuka Kuroda
(action setting)
Art by:
Sachiko Nishiguchi
(Inspired),
Seiko Akashi
(Studio Uni) and
Shinsuke Kinoshita
2D artist:
Hydekick
Motion graphics by:
Hidekatsu Uemura
(Sublimation)
Visual adviser:
Osamu Masuyama
(Inspired)
Editing by:
Hitomi Sudō
Music producers:
Hiromitsu Iijima
(IRMA LA DOUCE) and
Shunichi Uemura
(Nippon Columbia)
Studio:
Kinema Citrus
Network:
AT-X, Tokyo MX, TVA, KBS, SUN, TVQ, BS11
Opening theme:
"RISE"
by MADKID
Ending theme:
"Kimi no Namae (きみの名前 / Your Name)"
by Chiai Fujikawa
Main cast
:
Naofumi Iwatani (岩谷尚文)
voiced by Kaito Ishikawa (JP) and Billy Kametz (EN)
Raphtalia (ラフタリア)
voiced by Asami Seto (JP) and Erica Mendez (EN)
Firo (フィーロ)
voiced by Rina Hidaka (JP) and Brianna Knickerbocker (EN)
Summoned Heroes:
Kawasumi Itsuki (川澄樹)
voiced by Yoshitaka Yamaya (JP) and Erik Scott Kimerer (EN)
Amaki Ren (天木錬)
voiced by Yoshitsugu Matsuoka (JP) and Alan Lee (EN)
Kitamura Motoyasu (北村元康)
voiced by Makoto Takahashi (JP) and Xander Mobus (EN)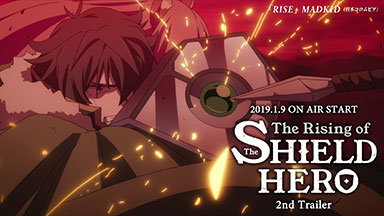 Melromarc family:
Melty Q. Melromarc (メルティ=Q=メルロマルク)
voiced by Maaya Uchida
Myne (マイン) / Malty S. Melromarc (マルティ=S=メルロマルク)
voiced by Sarah Emi Bridcutt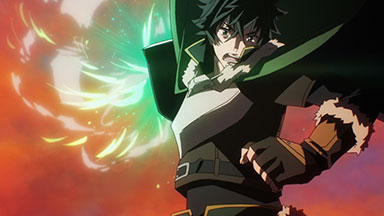 Trash (クズ) / Aultcray Melromarc XXXII (オルトクレイ=メルロマルク32世)
voiced by Yutaka Nakano
Supporting
cast:
Elhart (エルハルト)
voiced by Hiroki Yasumoto
Synopsis:
Stories of old tell of four otherworldly heroes—wielding the sword, spear, bow, and shield—who defended the land from wave after wave of calamity. With the fate of the world in balance, the kingdom of Melromarc summons these legendary figures; in modern-day Japan, the call is answered, and the unwitting heroes are transported to this fantasy universe. Thrust into Melromarc and given the title of "Shield Hero," otaku Naofumi Iwatani is labeled the weakest due to his lack of offensive capability and apparent inexperience. When the heroes part ways to start their journeys, he only has one willing companion: the beautiful princess Malty Melromarc. However, she soon betrays him, steals all his money, and accuses him of taking advantage of her. For his alleged crimes, Naofumi is branded a criminal and made outcast of society. With hatred filling his heart, he sets out alone, vowing vengeance against those who wronged him.
too much repetition.... though if they do it well, no one will care.
underdog
hero 'isekaied' to a book like
Fushigi'Yūgi
, as
shielder class
? i'm in!